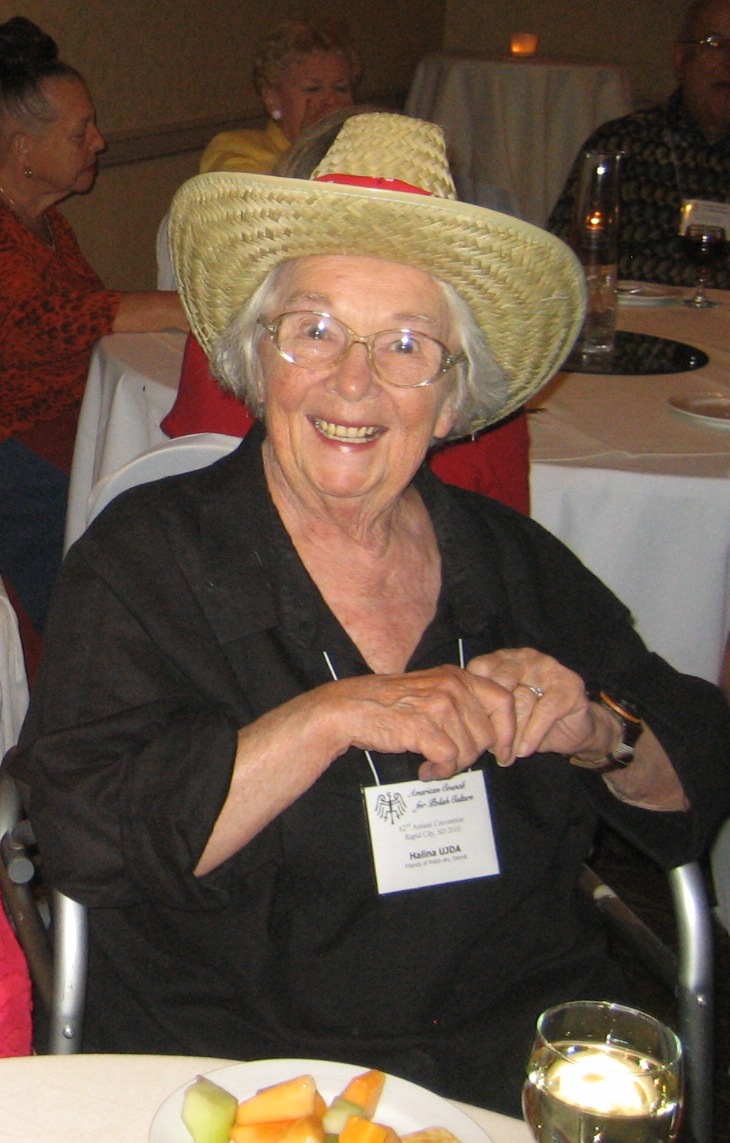 Halina Ujda at the 2010 ACPC Convention in
Rapid City, South Dakota

....
Ujda, Halina Sophie Stepkowicz
sociologist, Polonia activist

born: 1923
died: September 13, 2015
Obituary
Age 92, died September 13, 2015. Beloved eldest daughter of the late Andrew Ferdinand Stepkowicz and the late Sophie Sztejner Stepkowicz. Dear sister of Irene S. Zelazny of Livonia, the late Edward Stepkowicz of Dearborn and Arizona; and close Gdansk cousin, Jan Kalata. Cherished mother of late son, Jan Andrew Ujda; and four surviving daughters, Mary Irene, Faith Valerie, Janina Ann, and Halina Marie; also survived by four nephews and a niece. Halina was born in Warsaw, Poland in 1923 and her parents brought her to America the following year.
Over a decade later, the family returned to live in Poland for an extended stay until World War II threatened. The experience inspired Halina to a lifelong dedication towards preserving Polish freedom and cultural heritage. Back in Michigan, she worked for the American Red Cross and graduated from Detroit's Marygrove College in 1945 with a B.A. in Sociology. In 1946 she married Dr. Bruno Joseph Ujda, DDS, and they lived in Bloomfield Hills and raised five children together.
After her children left for school, her life as a homemaker gave way to a new career as a Cultural and Community Activist, as she settled first in Birmingham and then later in Royal Oak. For decades, Halina tirelessly donated time and energy to Friends of Polish Art, serving as past president and various other positions, as well as working with other groups such as the American Council of Polish Culture (ACPC), and participating in national conventions in the USA and in Krakow.
With her sociology background, she found time to be a local advocate for the rights of the mentally ill and their families. Halina was a talented amateur musician also, and her children fondly remember her playing Chopin on the piano at home, and imparting to them a love of music and the arts; she supported the Detroit Opera, and with her many friends attended local music events and Met Encores. As she entered her nineties, she was still active, still visiting the pool three times a week, going on out-of-state trips, and had many future plans, including to live to 100, but a rare previously-undetected aggressive cancer diagnosed just last month took her away suddenly; her final will to fight was an inspiration to all who knew her.
Visitation [Urn] 9:30 a.m. and Requiem Mass 10:30 a.m. on Tuesday September 22, 2015 at Holy Name Catholic Church, 630 Harmon, Birmingham, MI 48009; immediately followed by a Memorial Luncheon at the American Polish Cultural Center, 2975 E. Maple Rd, Troy, MI 48083, during which her life contributions will be celebrated. The family respectfully suggests donations be made to Friends Of Polish Art - Detroit; or AMI/Alliance for the Mentally Ill - Oakland County.