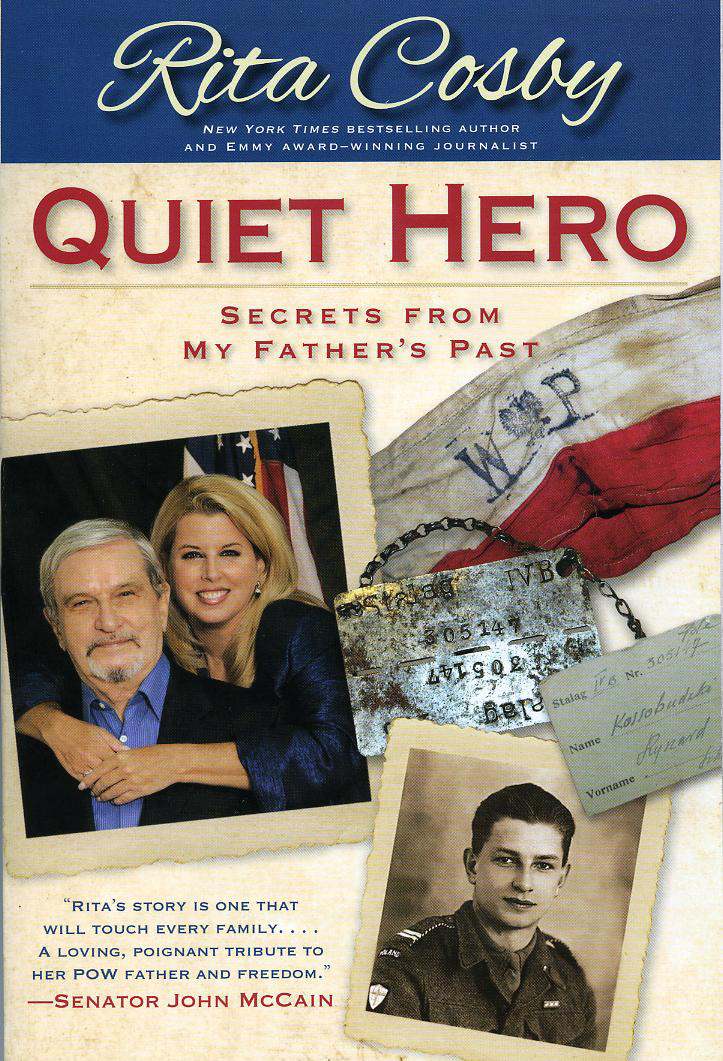 ....
Quiet Hero: Secrets from My Father's Past
by Rita Cosby
About Rita's father, Ryszard Kossobudski (Cosby), and his wartime experiences in the Warsaw Rising '44.
IN THIS POWERFUL MEMOIR, EMMY AWARD-WINNING JOURNALIST, TV HOST, AND NEW YORK TIMES BESTSELLING AUTHOR RlTA COSBY FINDS REDEMPTION, FORGIVENESS, AND RECONCILIATION BY UNCOVERING AN AMAZING STORY OF HEROISM AND COURAGE IN HER OWN FAMILY, THE UNTOLD SECRETS OF A MAN SHE HAS KNOWN ALL HER LIFE: HER FATHER.
Growing up, Rita knew little of the enigmatic man with a haunting past who suddenly left his family when she was a teenager -- only that his body was virtually covered with scars and that he came to America at the end of World War II. But when, as an adult, Rita discovered a battered suitcase filled with stark mementos of his terrifying youth a worn Polish Resistance armband, rusted prisoner tags with the words Stalag IV B, and an identity card for an ex-POW bearing the name Ryszard Kossobudzki she knew it was time to reach out to the man she had always known as Richard Cosby, proud American, to break his silence.
The harrowing tale he finally agreed to tell filled her with pride . . . and chilled her to the bone. At age thirteen, he saw his hometown decimated by bombs. By fifteen, he was covertly distributing anti-Nazi propaganda mere blocks from the Warsaw Ghetto. He lied about his age to join the Resistance and vowed to fight the enemy to the last bullet during the Warsaw Uprising. Confronting one of history's most brutal war machines, he was seriously wounded, captured and thrown into a German POW camp, ultimately escaping in a daring plan and rescued by American forces.
Quiet Hero is Richard Cosby's story, but also Rita's, as the decades old history and long-buried emotions shared between an undaunted freedom fighter and a stalwart journalist brought them closer than either could have ever imagined. This extraordinary story is an inspiring page-turner about healing and the love of family.