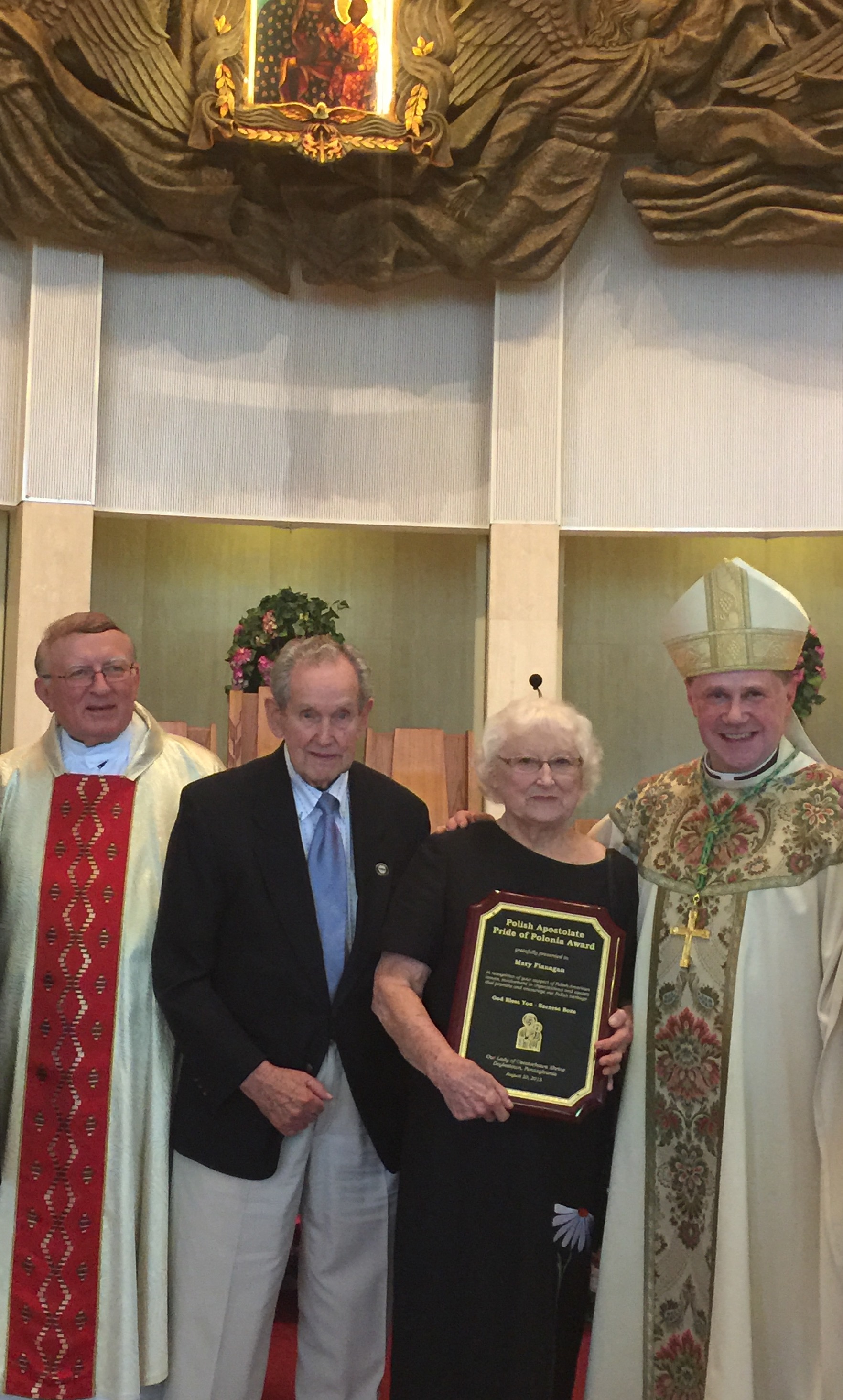 (l. to r.) Msgr. Anthony Czarnecki; Robert and
Mary Flanagan; Bishop Andrzej Zglejszewski

....
MARY FLANAGAN AWARDED PRIDE OF POLONIA
by Marion V. Winters
On Sunday, August 23, 2015, the Pride of Polonia Award for 2015 was presented to Mrs. Mary Flanagan after a Mass during which Bishop Andrzej Zglejszewski of the Diocese of Rockville Centre, NY presided along with twelve additional priests. Bishop Zglejszewski along with Monsignor Anthony Czarnecki of St. Joseph Basilica, Webster, MA presented the distinguished award to Mrs. Flanagan at the National Shrine of Our Lady of Czestochowa in Doylestown, PA. The annual Pride of Polonia Award is given by the National Polish Apostolate Committee to an individual who's cultural, educational and charitable activities benefit the life of Polonia.
Mrs. Mary Eleanor Witkowski-Flanagan nee Lubienski was born in Detroit, MI. She holds a BA in Art History and an MA in Art History & City Planning. The thesis for the latter was on the Rebuilding of Old Town Warsaw after WWII.
Professionally, Mrs. Flanagan worked as a Congressional Aide to former Congressmen Lucien N. Nedzi, John D. Dingell of Michigan and Henry Nowak of New York. All are of Polish descent, proud of their heritage and voted in support of Polish issues and attended many Polish functions or sent Mrs. Flanagan to represent them.
After retiring from The Hill, she and her husband started a publishing and design business. They edited and published several newsletters for many years, which included the American Council for Polish Culture (ACPC), the Polish American Arts Association, and Friends of John Paul II Foundation. They also published and designed Programs, ads and artistic decorations for the various functions of these eminent organizations.
As President of the Polish American Arts Association (Washington, DC), Mrs. Flanagan arranged a reception and display for several days of the traveling exhibit of contemporary works of Polish artists to raise funds for the School for the Blind in Laski, Poland. As President of the local Polish American Congress (PAC) she arranged a Parade in Washington, DC in honor of Pulaski. Thanks to Mrs. Flanagan's fund raising efforts the 40 foot mural by Jan de Rosen in one of Pittsburgh's Catholic churches, which was being closed, was saved and moved to Doylestown in St. Anne's Chapel adjacent to the Shrine of Our Lady of Czestochowa. This spirited Polonian also authored the biography of famed Polish-American Jan Henryk de Rosen, titled With Paintbrush And Sword.
Mrs. Flanagan has served on the Boards of POL/AM organizations including President of local Polish American Congress, Polish American Arts Assoc., and Friends of John Paul II Foundation in Rome. She served on the Committee of Five headed by John Cardinal Krol and Congressman Clement Zablocki to raise funds in the U.S. for the Polish Home in Rome as a gift to the newly elected Pope John Paul II. In all six million dollars were raised worldwide.
Among her many awards, Mrs. Flanagan was given the honor of Knight Commander of St. Sylvester by Pope John Paul II and the Cavalier's Cross by the Polish Government. A long-time supporter of the Polish Seminary at Orchard Lake, MI and of their Polish Mission at which she is a Conservator donor ($500 each) of two Polish Panorama figures, Stefan Cardinal Wyszynski and Stefan Batory.
The American Council for Polish Culture and the Friends of John Paul II Foundation heartily congratulate Mary Flanagan on receiving this prestigious award for her many accomplishments and achievements that have richly benefited the Polonia.